Have you ever wondered how the different social media networks stacked up next to each other on the amount of users they have? For me it was always something that I thought about but wasn't really sure. I knew Facebook was the largest, but after that I just wasn't sure. I found a short video that puts that all into context.
I'm not sure who created the video, but from reading the attached article it sounds as if The Next Web(TNW) was the source of it. The full article can be read here at TNW.
Link The most popular social media networks each year, gloriously animated
The video starts with the beginning of what was called at the time, Web2.0 with Friendster topping every other player by a huge margin in 2003. It should be mentioned that many of the networks that we use now didn't exist back then. As the years tick by you see though the use of bar graphs, the rise and fall of popularity of the respective sites. It's almost like watching a graph of the western civilization, you know the rise and fall of empires through time.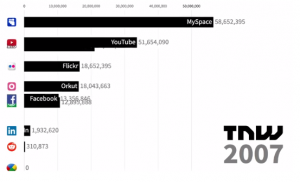 The graph is a interesting look into time that is almost hypnotic to watch. There are some networks that I don't think I've even heard about, but most are pretty much well known. At one point I caught myself rooting for Reddit. It's funny because it isn't a race, it's just how the bar graph expands and contracts along with the selected music.
It's not going to change your world to watch the video, but it is really an interesting graphic that will have you wondering where all these people are coming from, and maybe why you aren't using the particular social network.
As I was finishing this hastely written post, I started to wonder if it actually belongs on this site. I mean, it's not art nor is it technology for artists. I guess in the end, it's just interesting and yeah, maybe it doesn't really fit in Art & Technology, but for now I'll leave it here.
Unfortunately, it appears that TNW won't allow embedding of the video, at least in the way that my WP site can actually understand, so I guess if you want to see the video, you'll have to visit their site. Seems kind of petty to me, but hey, they took the time and expense to make it.
Link The video