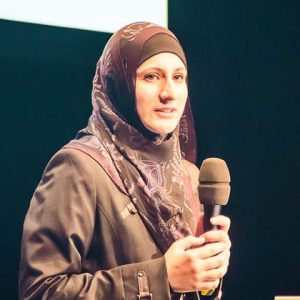 In the world of cascading style sheets there are a few well known people, people who have gotten a name for themselves for their posts or videos about CSS. Sara Soueidan is one of the better known experts that I have followed on Twitter. According to her web site, she is a front-end development and trainer.  To me, it's her work in CSS that I am the most interested in.
Recently she was an emcee at the CSSDAY (read my short entry on the event)in Amsterdam, and now she is doing a podcast with the web site, Syntax about SVGs. If you're interested in web design, it's a must-hear podcast.
For those of you who may not be fully aware of this file format then here is a summary from wikipedia:
"Scalable Vector Graphics is an XML-based vector image format for two-dimensional graphics with support for interactivity and animation. The SVG specification is an open standard developed by the World Wide Web Consortium since 1999."–Wikipedia
That might not be as clear to some as it is to others, in simpler terms, an SVG is an image format that is written as xml. You don't have to write the image specs from code there are programs like Illustrator that will convert your image to an SVG.
There are many reasons that you'd use an SVG, but but for me I use them because of their scalability. Since the image is vector based, that means that the image is created with math, and each time the browser/computer reloads the image it recalculates the info/math in the browser. The result is that the image is always crisp and clean, with none of the jaggies that you get when resizing jpgs or pngs. The best use of SVGs, in my opinion are smaller in size, like a logo, but I think I'm a minority on this.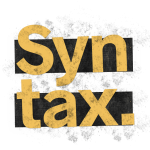 In the podcast, Sara gives much of the information about using SVGs as well as the reason that they are relevant in modern CSS and HTML sites. She explains how to embed them in a page, and other relevant info that I think is very useful to people like me or even beginners.
You can find more about Sara at her web site: sarasoueidan.com
Normally, I try to justify embedding the content on this site, but I think that Syntax.fm has quite a lot of info, like show notes, that goes with the episode, so it would benefit you to visit their site for the podcast.
The podcast is here:
 SVGs With Sara Soueidan