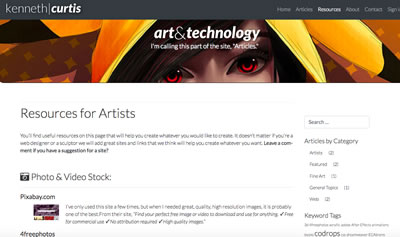 I want to first say that I feel good about where the site is at right now. I think I've got most of the elements in and I've started to update some of the older entries. Basically that means that the site is almost open for business, so to speak. I won't be ready to announce it on twitter for a while, at least until I've had some time to make sure that there aren't some errors or problems that I haven't noticed. That usually takes a few weeks.
I'm not going to go through the long list of things that I've fixed right now, but I will mention some of the more difficult things that I've managed to correct. Most of the difficult items have to do with formatting of the layout, and to be more specific, making sure that there is continuity between the blog and the static pages. Since they both use Bootstrap you'd think that wouldn't be that much of a problem, but it turned out to be something that I worked on for days. To give a quick example was the sidebar on some of the pages were different from each other, and then they collapsed differently as well. Since I'm used to, but not an expert in Bootstrap, I first had to fix one then find out why the other was doing messing up. Like I said it took me days to figure it out.
Now, the areas that still need work are in the updating. It takes quite a while to update some of the items in the site. This afternoon I spent about two hours updating the videos on the home page sidebar. You'd think that it would take maybe an hour at most, but curating, then getting an image, and then updating each one takes about 20 minutes. I need to find a faster way. I'm thinking about using generic images. I think it could save me about 6 or 7 minutes on each one.
I've also created and started to populate an resource page. My idea is to list items like web sites, video channels, or people that are useful for the average person to get help if they need it. I do have some problems at drawing the line on what is useful for the target audience and not just what I think is useful.
Well that's it for the update for now. Check back later for more info.