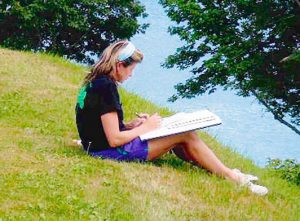 About three weeks ago I decided to sit down with a good friend and former colleague to ask her a few questions to get her take into what it's like to be an accomplished artist, I also wanted to hear the process that she took to get there. I think it's safe to say that in many ways Julia Townsend is renaissance woman with wide-ranging skills from painting to sculpture and long distance running to sea kayaker. If there is anything that she is not capable of doing I haven't seen it yet.
Julia has lived and worked as an artist all around the world from Germany to Dubai. She is currently living with her husband in Edenton, North Carolina, where they run the Peanut Factory (PF). The PF was a former, you guessed it, peanut factory and through which she and her husband are converting to art center. From what I understand the PF is becoming a center for all things art. It is currently hosting artist's residencies and they have just finished a gallery for exhibitions. She plans on adding a restaurant and housing for the visiting artists as well.
About the interview
I decided to do an audio interview much like the one I did with Corey Pickett last month. There was a difference though, Corey's interview was us sitting across a table chatting, with Julia we talked via Skype. Because of this there are parts of the interview that the connection basically dropped or was at best, spotty. I've done my best to clean it up and hopefully nothing has been lost during the editing. The total interview was about one hour that I edited down to about forty-five minutes.  I hate trying to let people know that there are mistakes and that I'm not perfect when it comes to the interviews that I do, but if you've followed the site at all, you should already be aware that this is new to me. In time, my hope is that I will be able to work out the bugs that I have encountered.
After saying all that about the process of conducting the interview, I think what Julia had to say about art in general and her take on being an illustrator specifically, is well worth the 45-minutes listen. Her ability to articulate what it takes to be successful is relevant to all artists in all genres.
The Interview
To find more information about Julia you can get a hold of her at various locations around the internet.
The images that I've included in the gallery make up probably less than 10% of her work that is online. There is no way that what I've included can accurately show the breadth of Julia's work. I sincerely hope that you will take the time to look over all the other work that I didn't include in the gallery.
Older Work: http://www.juliatownsend.com/
Current Work: http://juliatownsendartist.blogspot.com/p/home-page.html
Behance: https://www.behance.net/user/?username=juliatownsend
The Peanut Factory
(252) 484 0225
916 Badham Road
Edenton, North Carolina, 27932
http://www.facebook/thepeanutfactory